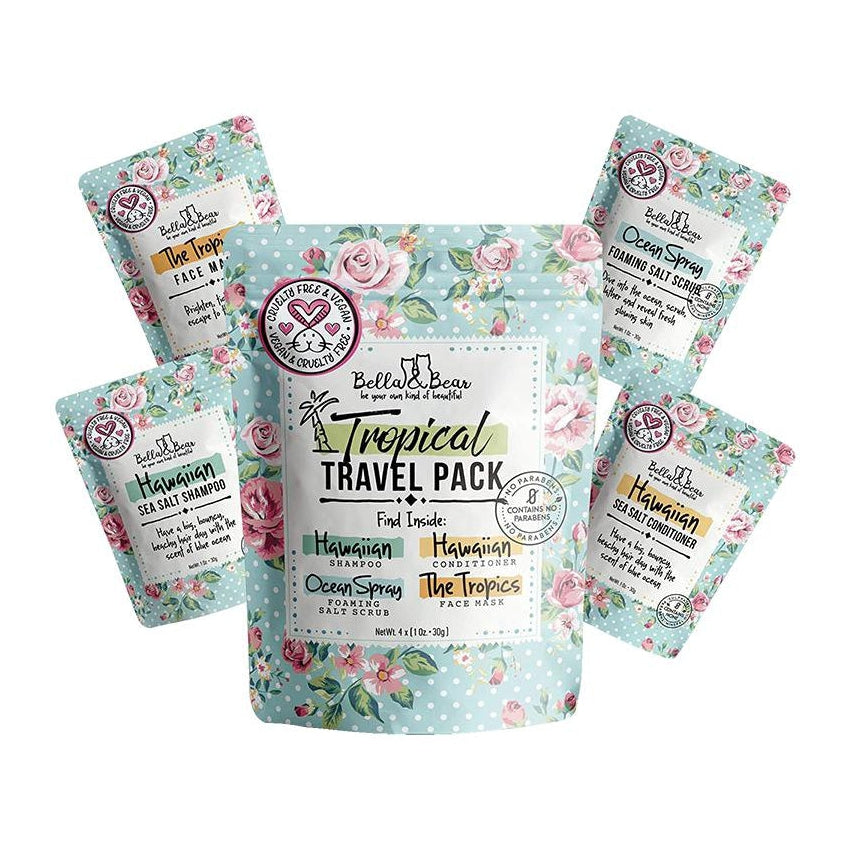 Bella & Bear Tropical Travel Pack Toiletries Kit
Introducing the Bella & Bear Tropical Travel Pack Toiletries Kit - Your Ultimate Self-Care Companion for Her Adventures!
Our Travel and Gift Pack is thoughtfully designed to enhance her journey with a touch of luxury and care. This exquisite kit contains four essential 1oz travel mini sachets that bring the essence of the tropics right to her fingertips. Each sachet is meticulously crafted to elevate her self-care routine, providing a holistic experience that nurtures both body and spirit.
Inside the Bella & Bear Tropical Travel Pack Toiletries Kit, you'll find:
Sea Salt Travel Shampoo:

Crafted to cater to women's hair that craves volume and rejuvenation. This shampoo not only removes excess oil but also infuses a luscious softness, leaving her hair irresistibly touchable. Our sea salt formula works magic, giving her locks the lift and body they deserve.
Lightweight Thickening Sea Salt Conditioner:

Elevate her hair game with our lightweight thickening conditioner, specially formulated for big, sexy hair. With a fresh beach fragrance that evokes memories of the ocean breeze, this conditioner adds a touch of luxury to her routine while delivering voluminous results that command attention.

Ocean Spray Foaming Body Scrub & Wash:

Streamline her routine with this versatile 2-in-1 product. The ocean spray foaming body scrub and wash effortlessly cleanse and exfoliate her skin, leaving it radiant and rejuvenated. Embrace the refreshing sensation of the ocean's touch in the comfort of her own space.
Tropics Face Mask with Algae:

Give her a rejuvenating experience with our tropics face mask, enriched with algae for brightening and tightening. Unwind and let the mask work its magic, leaving her skin with a youthful glow that radiates her inner beauty.
Paraben Free | Phthalate Free | GMO Free | Gluten Free | Vegan | Food Safe Colors | Cruelty Free
Choosing a selection results in a full page refresh.